Meet Dr. Eric Legault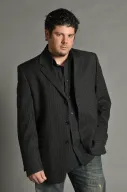 Meet the owner and doctor: Dr. Eric Legault graduated from Life University, College of Chiropractic in 2005. He is a Doctor of Chiropractic (DC) certified with modalities by the National Board of Chiropractic Examiners. He is also a certified Strength and Conditioning Specialist (CSCS) by the National Strength & Conditioning Association, certified Graston Technique by TherapyCare Resources Inc. and certified Kinesio Taping Practitioner™ (CKTP™) by the Kinesio Taping Association International. He also holds a CrossFit Level 1 certificate.

Dr. Eric Legault
D.C., C.S.C.S., C.K.T.P.™, CF-L1
120 Werz Industrial Blvd, Suite 500, Newnan, GA 30263
Phone: 770-912-9797
Email: [email protected]
---
Dr. Eric founded Optimal Performance in 2007 to offer the benefits of specific therapeutic treatments such as rehab, chiropractic care, exercises, stretches and trigger points to people seeking fitness, wellness and injury prevention methods.
Dr. Eric was born and raised in Montreal, Canada. He moved to Marietta, GA in 1998 and attended Life University on a full hockey scholarship where he played 4 seasons for Life U. and won 3 ACHA National Championship. During his stay at Life, he also earned a Bachelor of Science in Biology. Before moving to the U.S., Eric played Jr. A in the Central Junior Hockey League in Ontario, Canada. In high school, Eric was named the "best all around athlete". Eric also had a passion for baseball and was invited to the Montreal Expo's training camp in 1996. Eric also worked with the Atlanta Thrashers Hockey Development Team from 2006 to 2011 and had the privilege to train 4-16 years old. During that time, he worked with current and former NHL players and coaches.
"Dr. Eric – passionate – energetic – utilizes cutting edge training and rehab techniques! I would recommend his services to anyone."
Dr. Peter Hughes, M.S., D.C., A.T.C, C.S.C.S.
For the past 15 years, Dr. Eric learned and worked with his friend & mentor, Dr. Peter Hughes, M.S., D.C., A.T.C, C.S.C.S. Dr. Hughes is well known in the baseball community for working with MLB players. Dr. Eric is a devoted husband and proud father of 2 girls. He enjoys playing hockey, golf and loves cooking.
---
Personal Info
Graduated from Life University, College of Chiropractic in 2005
Founded Optimal Performance in 2007
Worked for Atlanta Thrashers Hockey Development Team from 2006 to 2011